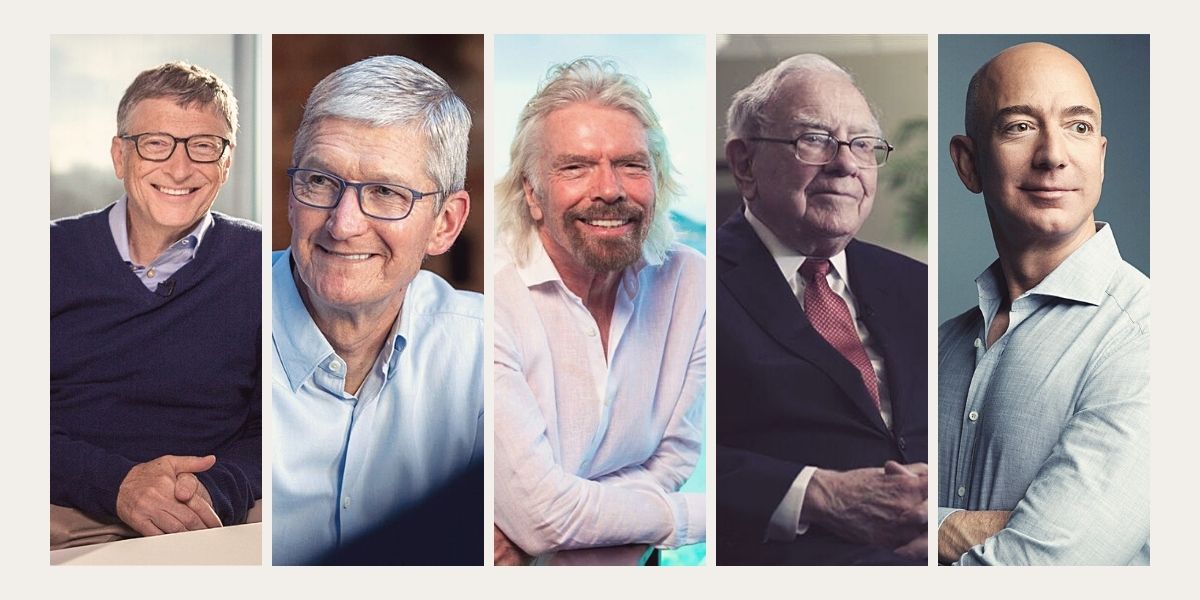 Give Your Reading List a Refresh With These Picks by Billionaires
September 9, 2020
The hot summer days are fading into more mellowed fall temperatures, and students are starting to head back to school either digitally or in person. Though many of our school days are behind us, learning is a lifelong venture. As we swap out short sleeves for sweaters, the days get longer and the weather gets rainier, and there's no better time to sit down with a good book. If you want to end the year with a refreshed perspective on your career, look no further. Here, we draw inspiration from billionaires' bookshelves to help you find your next great read. 
The Ride of a Lifetime Lessons Learned from 15 Years as CEO of the Walt Disney Company
by Robert Iger
Recommended by: Bill Gates (Co-founder and former CEO of Microsoft)
Bob Iger came to The Walt Disney Company at a difficult time, when morale was low and competition was stronger than ever. The book discusses the lessons he learned along a journey that made Disney the most prominent media conglomerate in the United States. 
In a blog post on his website, Gates Notes, Gates writes, "As the person who led Disney's acquisition of Pixar, Lucasfilm (that is, all the Star Wars stuff), Marvel, and most of 21st Century Fox, Iger is able to take you inside the workings of a massive media company and show how he thought about building on its strengths and shoring up its weaknesses." 
Competing Against Time
by George Stalk and Thomas M. Hout
Recommended by: Tim Cook (CEO, Apple)
You've heard the phrase "time is money." But no one breaks it down (or applies more scientific research into proving that time is, in fact, money) than authors George Stalk and Thomas M. Hout. In Competing Against Time, they make the case for using time-based strategy, tracking its success in companies like Ford, WalMart, and FedEx. Stalk and Hout argue that time consumption is quantifiable, and companies can use it as "a competitive weapon." Tim Cook allegedly finds this book so influential he purchases copies to pass out to colleagues.
Mandela's Way: Lessons for an Uncertain Age
by Richard Stengel
Recommended by: Richard Branson (Founder, Virgin Group)
Richard Stengel, a former Time editor, worked with South African leader and revolutionary Nelson Mandela for three years on Mandela's autobiography. In Mandela's Way, Stengel shares the 15 most important lessons he learned during that time. Perhaps one of the most important lessons the book imparts is to remain optimistic in the face of adversity.
Branson believes this is an especially important lesson for entrepreneurs, telling Inc.com, "Reading about Mandela's life will make you realize that the goal is always bigger than you and impossible is just a word. I've never made business a separate category–the lessons you learn in your career can help you in other areas, and vice versa. It's all living."
Stress Test: Reflections on Financial Crises
by Tim Geithner
Recommended by: Warren Buffett (Chairman and CEO, Berkshire Hathaway)
Tim Geithner served as President of the Federal Reserve Bank of New York before acting as President Barack Obama's Secretary of the Treasury. As such, Geithner helped guide Americans through the worst financial crisis since the Great Depression. This memoir peels back the curtain on the crisis and gives readers a close look at the decisions made to prevent the economy from collapsing entirely. Buffet called it a "must-read" for managers.
The Remains of the Day
by Kazuo Ishiguro
Recommended by: Jeff Bezos (CEO, Amazon)
If you're looking for a book that isn't so business-focused, you may want to turn to one of Jeff Bezos's favorite reads. The Remains of the Day is a 1989 novel by Nobel Prize winner Kazuo Ishiguro that tells the story of an English butler. One of the most highly regarded post-war novels, The Remains of the Day was awarded the prestigious Man Booker Prize for its themes of love, loyalty, class, and politics. 
In an interview with Success, Bezos gave it the highest praise: "Before reading it, I didn't think a perfect novel was possible. I'm always interested in things that seem to be impossible but are then achieved. Like when you got to see the Cirque du Soleil. It seems it should be impossible for human bodies to do such things, yet they do them elegantly and beautifully and seemingly effortlessly…I am entranced by that: the idea of the impossible achieved."