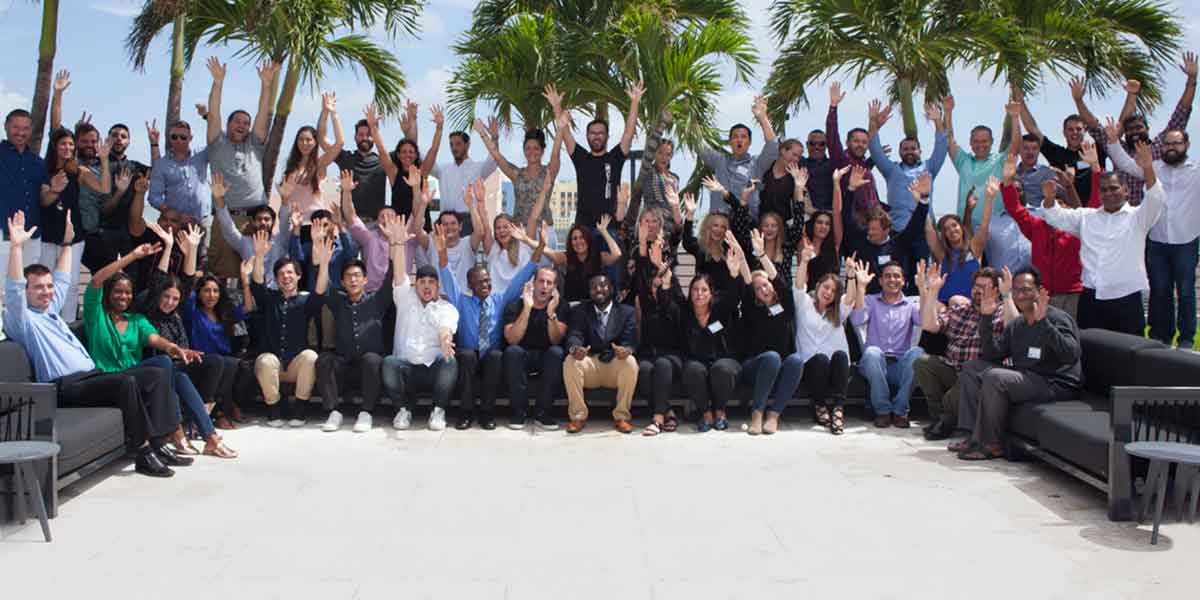 7 Unexpected Benefits of Annual Company Retreats
April 26, 2018
As office culture puts more emphasis on work-life balance, more companies are turning to retreats to build stronger communities among employees.
Retreats have a number of benefits, one of the most obvious being that they foster a sense of community among employees. Some of the other benefits may not be as obvious. For Global Agora, a venture capital company, much of the benefit lies in being able to connect employees from several of the companies under their umbrella.
"Since we started hosting the retreats, we saw a massive improvement on interconnected cultures, not only across office locations, but across the various departments as well. For example, our accounting department got to interact with our creative department and our business development teams got to connect with our technology development teams.
A sense of unity was created that spread like wildfire and it transferred beyond just the few days of the actual retreat," said Cynthia Gentry, Director of Culture at Global Agora.
She said that the 2017 retreat was attended by 63 people representing Global Agora, Maximus, NanoQuery, Quad2 Media, Golden Lantern, and Union Square Media. Attendees also represented offices from New York City, Los Angeles, Austin, Miami, and Hyderabad, India.
Here are seven lessons Global Agora has learned from their yearly retreats.
1. Retreats promote big picture thinking
Being in a busy office environment can be stressful, with people working on individual projects and teams. Retreats relieve the pressure of an office environment, giving employees a chance to step back from the details of the day-to-day and focus on big-picture goals.
2. Employees connect beyond the screen
With offices in New York, Los Angeles, Miami, Austin, India, Russia, and Ukraine as well as employees who work remotely across the United States, Global Agora relies on digital communication to coordinate. Getting employees together at a yearly retreat gives them a chance to connect in person, and since Global Agora is constantly growing, gives newer team members the chance to meet people outside of their office.
3. Opportunities for team building are abundant
Having employees in one place helps them build tighter bonds and relationships outside of the work environment. Without the need to focus solely on work, employees get to learn one another's personalities. Stronger relationships outside of the office lead to better teamwork within the office.
"The retreats that are hosted once a year literally and figuratively brings everyone together. You have the opportunity to meet your fellow colleagues in person rather than just talking online. It is a great time to bond and find ways to connect whether it is over work or similar interests you enjoy," said Austin Pasamba, a business developer at Golden Lantern.
4. Employees' hidden talents can shine
Not only do employees get the chance to grow closer, but they can learn surprising things about themselves and each other.
"From escape rooms to a South Beach scavenger hunt, the trip overall boosted everyone's morale. I also enjoyed learning how to cook an awesome Thai-chili shrimp dish and even learned how to make spring rolls! I can't wait for the next one!" said Matt Bridgeford, a Media Analyst at Quad2 Media.
5. Everyone gets a chance to celebrate recent accomplishments
Company retreats allow employees to be recognized for their hard work and achievements. Josh Keller, managing partner at Global Agora, holds a welcoming ceremony each year. Not only does it allow him to outline company goals, but it gives him the opportunity to recognize employee accomplishments throughout the year. Retreats also grant the opportunity to acknowledge any setbacks or talk about things that didn't work throughout the year.
6. It's a great time to introduce shared company goals
Getting all employees together opens the door to big discussions. With so many employees under so many different companies, an annual retreat offers a great way to introduce any new company goals to work toward in the upcoming year in an environment where everyone is all ears. It can also be a great way to foster discussion on any decisions that might be coming up for the company.
7. Neutralize the playing field
Offices naturally have a hierarchy of employees, but retreats are a way to bring employees together and eliminate the hierarchy. This helps to foster a sense of community, teamwork, and friendship.